Made by Auditors
for Auditors
It is built by Auditors to support the entire process of audit management in a powerful and simple workflow.
Collaborate
Manage all communications, queries and documents in one central location. Track queries, responses and review points. Simultaneous auditor access of files and work papers. Flexible roles and permissions to control access.
Easy compliance
Access the latest compliant and best practice content. Content templates for all audit types. Eliminate overauditing and only audit what you need to. Create firm specific templates or use the built in audit templates.
Control documents
Drag and drop supporting documents and auto-link to relevant workpapers. Store, roll-forward and update permanent file documents. Control who has access to which functions.
Cloud Based
1Audit delivers all the benefits of a paperless audit system without the need to download or install any software. Your firm will easily maintain compliance with all auditing standards, requirements, and your data and files are more secure and accessible
Our
Plan
Up to 3 users
Limited Features
Limited Storage
Limited Access
Unlimited users
Unlimited Features
Unlimited Storage
Unlimited Access
About
Us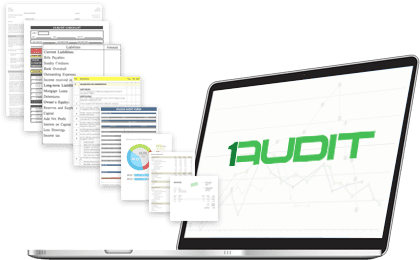 It was built in 2013 by auditors to fulfill the professional audit requirements through a reliable audit software that support the Arabic language. From the beginning, we depend on the software to perform automated audit processes on behalf of the auditor in order to shorten the effort and the time spent for audit engagement. We also focused to make a user-friendly software that allows for an auditor who is not specialized in the audit programs to efficiently use the software without the need of intensive training. In addition, the software can perform administrative and other secretarial work, which is complementary to the audit engagement.
Full security
We use AWS services. Best practice security. Auto Backup every 5 minutes.
Visibility
Your files always available where ever you are.You only need to have an internet connection and a mobile or a PC
Flexibility
1audit is a very flexible software, you can edit, change or delete any content of working paper.
Save Time
Eliminate time consuming data transfer and automate your audit file set up with two-way trial balance and adjusting journals integration with related working papers.